1. Ethanol
Aytas is the first official Ethanol importer and trader company in Turkey. Aytas's main product is Ethanol. Aytas is the registered ethanol trader company by Turkish Alcohol & Tobacco Market Inspection Department (TAPDK).
Ethanol's other names are Ethyl Alcohol, Ethylic Alcohol. Ethanol has mainly 2 types. Technical (Synthetic) origin and Agricultural (Wheat, Molasses, Sugarcane, Potato, Corn, Grape etc.) origin. Agricultural origin ethanol have also 3 types. Denatured, Neutral and Extra Neutral. Neutral Ethanol's mostly usage industry is the Alcoholic Beverages, Vinegar, Pharmacy. Denatured Ethanol's usage industry is mostly Cosmetic, Chemical, eau de cologne, Perfume, Detergent and Ink industry. The Extra Neutral alcohol or ENA is a high distillated alcohol without any impurities and others destinated to be used in the high cosmetic industry, perfumeries as well as for the production of alcoholic beverages such as whisky, vodka, gin, cane, liqueurs and alcoholic fruit beverages and aperitifs.
Technical Ethanol's alcohol volume is mostly between 99,7-100% by volume. Extra Neutral Agricultural Ethanol's alcohol volume is 96,2-96,5%. 2nd class Agricultural Ethanol's alcohol volumes are under 96,2%, 3rd class is under 96% by volume. Under the 95,5% by volume ethanol name is raw ethanol.
We mostly denaturing ethanol with Denatonium Benzoate (Denatonium Benzouate) and Tertiary Butanol (TBA). However if you want special formulary then we can denature with your special denaturing formulary. For instance we can manufacture semi finished goods like as Base Perfume, Concentrate Screenwash, Concentrate Antifreeze. For more details please look Base Perfume section below. Companies prefer to buy denatured Ethanol because it's tax is less expensive than Neutral Ethanol. If Denatured and Neutral Ethanol taxes are same in your country then you don't need to buy denatured Ethanol, you can use Neutral Ethanol for all industry. By the adding water we can decrease Ethanol's alcohol volume to 79% and we can export with the 22.08.90 tariff code. For some of the medical and disenfectant applicantions again it is possible to decrease Ethanol's volume to 70% or other volumes.
We always have Ethanol in our stocks. For more information about our plants, export photos please visit storage plants at menu. For analysis reports, MSDS, ERIC and other documents please visit Analysis section at menu.
If you want to see Fuel Ethanol Export Photos please visit http://fuel.aytash.com
If you want to see Medical 5 and 1 liters Ethanol export photos please viist http://medical.aytash.com
If you want to see Ethanol Export Photos in IBC or Barrels Please visit http://ethanol.aytash.com

We are exporting Ethanol in 1000lites IBC, 220liters Barrels, 5liters jerrycan too.
For 5 liters Medical Ethanol please visit www.medicalethanol.com
For Ethanol Prices Online Export Price Calculator click here
2. Ethanol based Chef's Dish Fuel - Chafing Fuel - Ethanol Gel
Aytas was the manufacturer of ethanol based chafing dish fuels. In the past we exported to the most of the European countries with their own private labels. We are only manufacturing our gels from Ethanol (Not mixing with methanol). Chafing fuels are mostly used for catering, restaurants, camping, military, fireplace purposes. More details about our chafing fuel can be found at www.fuelpaste.com, for MSDS and other documents please visit documents section at menu.
Private Labeled Chafing Fuels (Chef's Dish Fuels)
Click on photos to view documents larger
3. Special Denatured Ethanol - Base Perfume - Concentrate ScreenWash
By the advantages of the freezone, Aytas has the capability to take costum made orders, like as TSDA3, SDA40. Our freezone location allows us to take special orders for our costumers, like as Base Perfume, Concentrate Screen wash and Concentrate Antifreeze, Mosquito Repellent.
Base perfume is a semi finished product and a raw material of manufacturing perfume. It's manufacturing process is the same as with perfume. For example 1000 liters Ethanol 96% mixture with 5 kgs fragrance. While manufacturing of base perfume we can use your special fragrance and formula. By buying base perfume instead of ethanol, you can get advantages listed below,
* Product Name changes as Base Perfume (Ethanol -> Base Perfume)
* Country of origin changes as Turkey. (Any country -> Turkey)
* It's UN number changes as Base Perfume's codes. (UN1170 -> UN1266)
* Custom tariff number changes as Base Perfume's codes. (22.07.10 -> 33.03.00)
* By the Base Perfume codes transport fee will be less expensive then Ethanol transportion. For international and transit shipment, our costums don't need the bank guarantee and costum watchmen. Just only TIR Carnet is suffiecient for international transportation.
* This way provides lower taxes at your costums with importing Base Perfume costum tariff numbers.
Concentrate Screenwash and Concentrate Antifreeze is a semi finished and raw meterial of antifreeze and antifreeze screenwash for vehicles. For example, it is a 1000 liters Ethanol mixture with lower content of water and screenwash chemicals. It contains Ethyl Acetate, Denatonium Benzouate, Color, Non Ionic Active Surface Agent, Water, Ethanol, Perfume. It has the same advantages with the Base Perfume, only it's costum tariff code changes to 38.20.00
Concentrate Fly and Mosquito Repellent is one other product we offer to manufacture in bulk or private labelled in 100cc bottles. It's formula is Ethanol and DEET mixture. We can manfacture it with your private percentage of formula.
Base Perfume, Concentrate Screenwash's MSDS, ERIC, Specs and other documents are at menu, analysis & docs section. For export photos of Base Perfume please visit storage plants at menu.
We are exporting Base Perfume in IBCs too.
4. Other Chemicals
Sometimes we trade some chemicals. Listed below,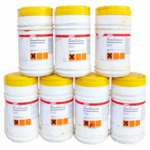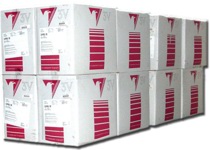 - Denatonium Benzoate (Denatonium Benzouate)
- Tertiary Butanol (TBA)
- Triisopropanolamine (TIPA)
- Carbomer
5. Export Photos

We are exporting ethanol and special denatured ethanol (Base perfume, etc.) in IBCs. 20" FCL's capacity is 18 IBC which equals to 18000 liters. 20"PW (yellow one) FCL capacity is the 20 IBC which equals to 20000 liters.
We export ethanol and base perfume in TIR loads too, every TIR's capacity is 25-26 IBC which equals to 25000 - 26000 liters.
Other option to export ethanol is in 220 liters barrels. 1 TIR load capacity is 96 barrels, if you accept 2nd floor then we can load 120 barrels. 20" container load is 80 barrels (80x220liters)
6. Webpages Of Our Products
Ethanol http://www.aytash.com/ethanol/
Fuel http://www.aytash.com/fuel/
Base Perfume http://www.aytash.com/baseperfume/
Medical http://www.aytash.com/medical/
Click on photos to view larger